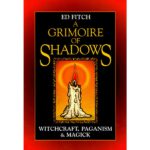 For years it circulated among initiates of Wicca. It was borrowed, adapted, modified, and used. A Grimoire of Shadows by Ed Fitch is truly one of the great underground classics of modern Witchcraft. Now it is available for the first time in its complete original form. Directly or indirectly, this book has helped to start hundreds of Wiccan traditions – maybe more! Now you can read and study it yourself.
A Grimoire of Shadows is a thorough introduction to magick, ritual, and Neo-Paganism. Originally created as an alternative cycle of rituals for the Gardnerian Craft, it is a complete, self-contained system of magickal training based on Tibetan, Austrian, and ancient Pagan sources.
In A Grimoire of Shadows you will learn about the aura, astral projection, herbalism, Wyvern covens, and Witch-prayers. Magic circles, amulets and charms, invocation and evocation techniques – every aspect of basic Craft practice is outlined and explained clearly and completely. That is why this book is considered one of the most important books in the history of Wicca.
The author, Ed Fitch, is one of the major figures in modern Wicca and Neo-Paganism. In A Grimoire of Shadows, he reveals material never before made public, including an essential guide to starting and operating your own coven. If that is your goal, this book is a must.
But A Grimoire of Shadows is not just for beginners. It gives you all of the information up to the level of the "Inner Court." This is a must for all Wiccans and Neo-Pagans, as its lore and knowledge will help round out what you already know and give structure to your studies.
You will find yourself referring to A Grimoire of Shadows again and again. It has proven its worth through decades of successful use by people all over the world. Get this book and use it.