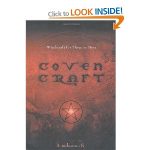 Paperback: 528 pages
Publisher: Llewellyn Publications,U.S. (30 Nov 1998)
Language English
ISBN-10: 1567180183
ISBN-13: 978-1567180183
The ultimate coven handbook, Coven Craft was written by a well-known and respected Wiccan High Priestess, who guides you through the workings of covens from Altars to Zoning. Over the course of twenty-seven chapters and forty-two appendices, Amber K shares with you her vast coven know-how, with plenty of veteran insights and straight-up advice on: –Finding or organizing a coven–Tools and supplies–Finances and incorporation–Coven offices–New members–The coven calendar–Pagan ritual–The sabbats and esbats–Training and intiation–Group dynamics–Counseling–Elders–Traditions–Networking and affiliation–Covens in the community It has been said that leading a coven is like herding cats. Whether you're searching for fresh ways to meet those challenges or you're thinking about joining your first magical group, consult this friendly, knowledgeable companion for guidance.